50TH ANNIVERSARY
Inspiring stories, real people
Physically transporting riders from place to place is only part of what we do. We also help people connect to everything from a college education to wildfire evacuations to everyday mobility with a service animal. These are some of the stories that make OC Bus more than a way to get around.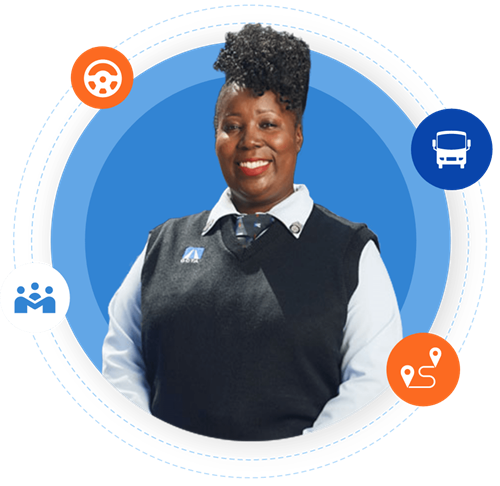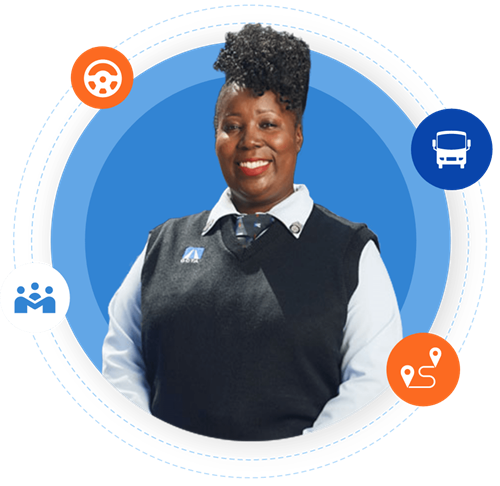 Making Transit Available
OC Bus continues to develop programs and services that make transit safe and accessible.

OC Bus in the Community
In times of need, OC Bus is there.


Playing a vital role in Laguna Beach firefighting efforts

During the devastating Laguna Beach wildfires in 1993, OCTA evacuated local residents and transported fire fighters throughout Orange County into Laguna Beach. OCTA's radio communications center was used as a command post for emergency fire and rescue crews. Every OCTA employee is also a disaster service worker, ready to help when and where assigned.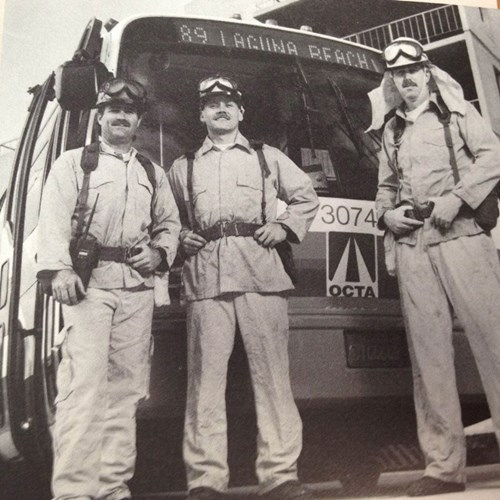 "Be the One" program raises awareness of human trafficking
Because victims and traffickers use public transit, the human trafficking "Be the One" campaign was launched in 2014. One of the most publicized stories of human trafficking in Orange County involved a young woman flagging down an OCTA coach operator to escape forced slavery in Irvine. The campaign raised awareness and empowered riders to "Be the One to Say Something" if they saw a potential human trafficking victim. Riders were asked to contact their coach operator if they saw something suspicious. Hundreds of drivers have been trained by the Orange County Sheriff's Department Transit Police and the county's Human Trafficking Task Force on how to assist victims and respond to incidents. "Be the One" outreach is ongoing because human trafficking continues to be a problem in Orange County.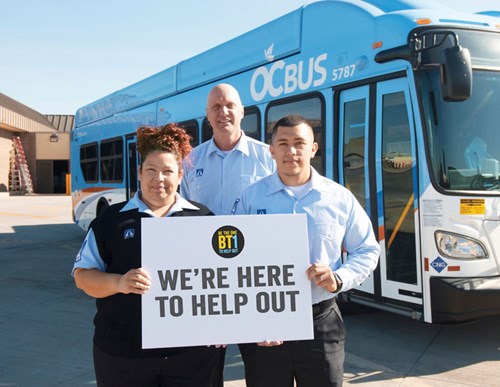 Stuffing a bus with toys for the holidays!

In 2003, OCTA created the Stuff a Bus program during the holidays in support of the "Spark of Love Toy Drive." OCTA teamed with KABC Channel 7 to collect new and unwrapped toys and sporting equipment in the Arrowhead Pond parking lot. All items were loaded onto OCTA buses and then distributed by KABC Spark of Love to children in the local community. The toy drive ran from Thanksgiving to Christmas throughout all five area counties. OCTA continues to be a part of this holiday outreach program.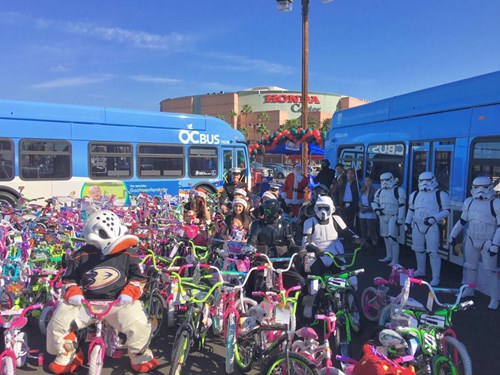 Helping the Second Harvest Food Bank

OCTA teamed with Second Harvest Food Bank in 2011 for a county-wide food drive taking place in early November. Their mission is to do whatever it takes to ensure that no one in our community goes hungry. Because of the many generous donations, OCTA collected 1,984 pounds of food, which were anticipated to provide 1,653 meals during the holiday season. We received plenty of generous donations during the food drive events and the Ralph's supermarket in Huntington Beach. One day, two women separately donated two carts of food! We continue to be touched by the generosity of the community we serve.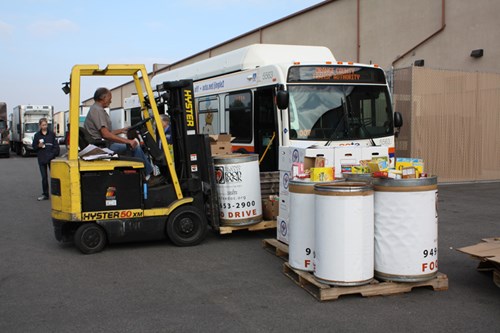 What OC Bus does while you sleep!

After the last passenger has been dropped off and our buses have returned to their respective bases, the life of an OC Bus continues. First, they get a bath using recycled water so they are clean for the following day of service. Then they undergo refueling, regular maintenance and cleaning to ensure that they are safe and ready to jump into action early in the morning. Our facilities in Santa Ana, Garden Grove, Anaheim and Irvine work around the clock to maintain public transit in Orange County.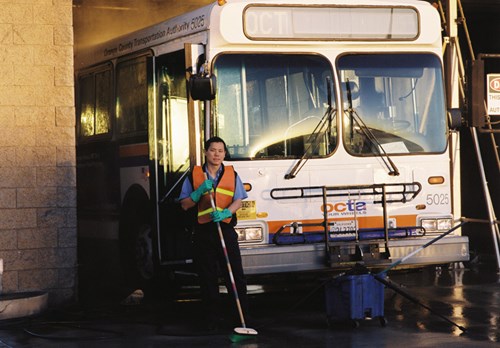 Transporting medical workers to COVID-19 vaccination clinics

The OCTA team stands ready to assist the community to respond to all emergencies including fires, floods, or this public health crisis. During the heart of the pandemic, OCTA worked in coordination with Orange County health officials and county emergency operations personnel to help trained medical workers travel from the Disneyland super site to smaller venues in Orange County that distributed the vaccine to vulnerable seniors aged 65 and older.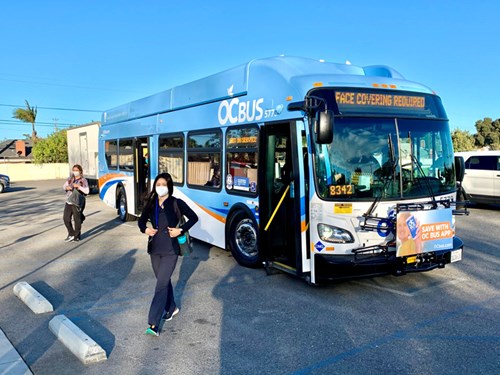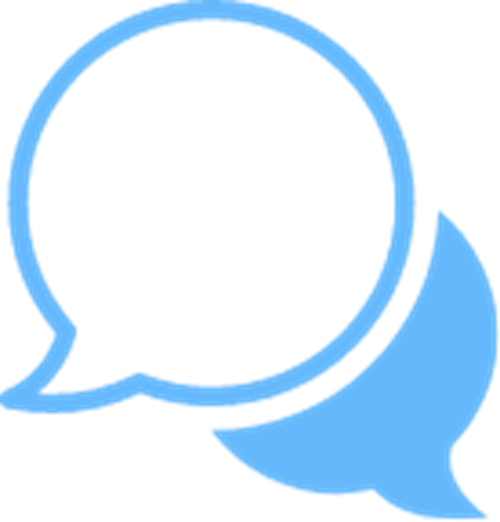 What does OC Bus mean to you?
Read what our customers have shared.
OC bus has played a vital role in my life growing up in LA and OC which led me to establish roots as a lifelong transit rider. I'm also glad to have been part of the OCTA family from 2010 to 2012 as a public communications intern, launching a career in transportation that later landed me up north at SamTrans/Caltrain, where I work in customer experience and continue the mission of ensuring transit access to all. Happy 50th anniversary to my former home transit agency and employer, OCTA.
Simon O., OC Bus rider since the 1990s
I remember when I first rode the bus. I was in high school in the City of Fullerton. It was better than walking to school, and at the time, it was only 25 cents to ride both ways. I still ride the bus today.
Matilda P., OC Bus rider since she was 15
When bus services first began, we were so excited. We walked one mile to catch the bus here in Costa Mesa to go to UCI!!
Julia H., OC Bus rider since 1972
I grew up riding the bus with my dad. I loved riding it whenever he and I would go out for fun or to run errands. As a student, I am still a frequent rider of OCTA, and I always enjoy it.
Stephan M., OC Bus rider since 2010
In the 70s, I rode Bus 57 from Brea to Newport Beach Pier every summer when I was in High School. I loved the smell of the ocean air when the 57 OCTA went down the hill toward the beach. It was magic and part of my childhood. #LOVE
Dennis B., OC Bus rider since 1970
I depend on the bus to get me to work and for recreational use all the time. I appreciate all the hard working OCTA drivers and employees behind the scenes. Thank you!
Jessilin A., OC Bus rider since 2012
I recall riding the bus since I was five years old. Everyone in my family owns a car now, but sometimes we still use the bus as we miss riding it. Every bus driver we've had is always nice and welcoming! Thank you to all the bus drivers, retired, and future.
Maria I., OC Bus rider since 1997
My mom has depended on the OC bus to travel to work since I was born. It became a part of my mom's ability to be a hard working single mother. Thank you!
Liliana T., OC Bus rider for 25+ years
I am a job coach and have four (developmentally disabled) clients that ride the bus all the time. My coach operator is just wonderful with them. She goes out of her way to make them feel like she is their friend. She talks to them and remembers personal things about each of them and that make them feel special. When they have a problem, she helps calm them down. She is always smiling and has a good attitude. She deserves recognition.
Ed Fodor, OC Bus rider since 1994
For the past 10 years I have used bus Route 757 to travel to work. I am grateful for OCTA's service and reliability. This was one of the best things that happened to me. I can sit back and relax on my ride to work rather than worrying about traffic.
Lydia Champion, OC Bus rider since 2006
During my seven and half minutes riding Route 53, I experienced not one but several examples of fantastic customer service by my driver Cornell. He went way past friendly and crossed over into ebullient. He helped the handicapped passenger off with a smile and a joke, helped another passenger with directions, and when I asked for his name and badge, he gave me another albeit silly joke. He is the epitome of an exemplary employee, doing a difficult job with not only a smile but jokes!!! I think he deserves recognition. Thank you.
My driver is the best. He watches out for me on the way home. He knows my regular exit. If I am reading or try to exit at a different stop, he makes sure that is where I want to be. He is respectful to all the riders and always has a smile for everyone. I got on a different bus yesterday because I was running late. Although the driver was nice it just wasn't the same. I want him to know he is very appreciated!!!