Contact Us
To submit a comment, question, or request to the LOSSAN Agency Board of Directors, please contact the LOSSAN Clerk of the Board at lossanclerk@octa.net or (714) 560-5676.
Membership
The LOSSAN Board of Directors is composed of current and former elected officials representing rail owners, operators, and planning agencies along Amtrak's Pacific Surfliner corridor between San Diego, Los Angeles and San Luis Obispo. LOSSAN is staffed by the Orange County Transportation Authority.
The LOSSAN Board of Directors meets monthly.
Click here for the 2023 LOSSAN Meeting Calendar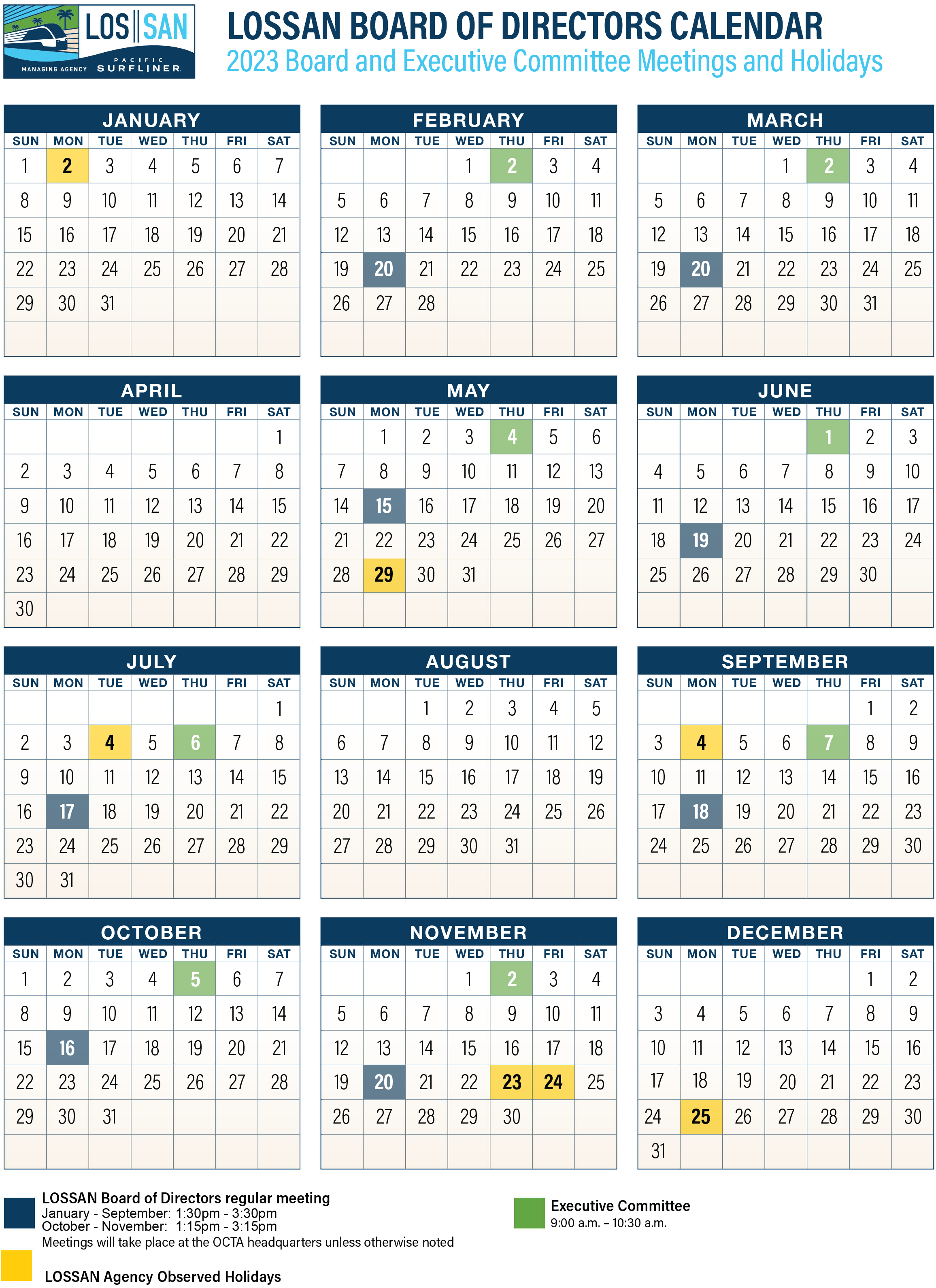 * Please note the meeting start time and location.
---
Voting Members
Chair: Jewel Edson
North County Transit District
Vice Chair: Bryan MacDonald
Ventura County Transportation Commission
Fred Strong
San Luis Obispo Council of Governments
Das Williams
Santa Barbara County Association of Governments
Fernando Dutra
Los Angeles County Metropolitan Transportation Authority
Jess Talamantes
Los Angeles County Metropolitan Transportation Authority
Fred Jung
Orange County Transportation Authority
Al Murray
Orange County Transportation Authority
Dana Reed
Riverside County Transportation Commission
Caylin Frank
San Diego Metropolitan Transit System
Priya Bhat-Patel
San Diego Association of Governments
Alternates
Jim White
Ventura County Transportation Commission
Andy Pease
San Luis Obispo Council of Governments
Paula Perotte
Santa Barbara County Association of Governments
Marisa Perez
Los Angeles County Metropolitan Transportation Authority
David Perry
Los Angeles County Metropolitan Transportation Authority
Jose Diaz
Orange County Transportation Authority
Joseph L. Muller
Orange County Transportation Authority
Raymond Gregory
Riverside County Transportation Commission
Vivian Moreno
San Diego Metropolitan Transit System
Esther Sanchez
San Diego Association of Governments
Ex-Officio Members
Jeanne Cantu
Amtrak
Andrew Cook
California Department of Transportation
Kyle Gradinger
California Department of Transportation
LaDonna DiCamillo
California High-Speed Rail Authority
Bruce W. Armistead
California High-Speed Rail Authority
Art Brown
Southern California Association of Governments