OC ACCESS Service
OC ACCESS is a shared-ride service that is available to qualified applicants whose physical or cognitive limitations prevent them from utilizing the regular OC Bus fixed-route service.
Your travel time on OC ACCESS should be expected to be the same travel time on OC Bus for the same trip. Please keep in mind that when riding OC ACCESS, you probably will not go directly to your destination because other customers may be picked up or dropped off first.

Curb-to-Curb Service
OC ACCESS service is provided within ¾ mile of, and during the same hours as, the OC Bus service. The base fare for OC ACCESS service is $3.60 for each one-way trip. One personal care attendant (PCA) may ride free when accompanying an OC ACCESS customer. In addition, one companion is permitted to accompany an OC ACCESS customer and is required to pay $3.60 for each one-way trip. Additional companions may be booked on a space-available basis and must pay $3.60 for each one-way trip. All OC ACCESS fares must be paid upon boarding.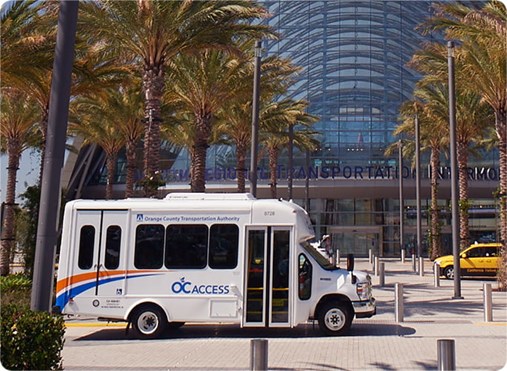 Subscription Service
Subscription service may be available for customers who travel consistently on (a) specific day(s) of the week, at the same time, and to and/or from the same destination. Customers who are granted subscription service can enjoy the convenience of having their trips automatically scheduled without having to call the OC ACCESS Reservation Line to schedule each trip.

Same-Day Service
OC ACCESS offers a premium Same-Day service to OC ACCESS-eligible riders to and/or from any address in Orange County. OCTA subsidizes up to five (5) miles for a Same-Day ride. Riders pay the OC ACCESS base fare of $3.60 for a five (5) mile ride. Any additional costs above the five (5) mile ride are paid by the OC ACCESS-eligible rider. Please call OC ACCESS reservations at (877) 628-2232, TDD 7-1-1 or visit OC ACCESS Same-Day Service for more details.
Ride Request Hours
7:00 a.m. - 5:00 p.m. Monday through Friday
8:00 a.m. - 5:00 p.m. Saturday, Sunday, and Holidays
Hours of Service
OC ACCESS service is available during the same days, hours, and service areas to those of fixed-route OC bus service. Please call OC ACCESS Reservations for service hours in your area.
Requesting a Ride
OC ACCESS requires a customer to schedule a ride at least one day prior to the day of travel. However, rides may be scheduled up to 3 days in advance. Call 877-OCTA-ADA / (877) 628-2232 during OC ACCESS Reservations service hours to request a ride. For TDD, call (800) 564-4232.
Due to the number of OC ACCESS trip requests, OCTA is not always able to give customers the exact time they request. The ADA allows for a ride request to be negotiated one hour before or one hour after the requested pick-up time. OCTA makes every effort to offer trip times as close as possible to those requested. However, if a customer refuses the negotiated trip time, it is recorded as a customer trip refusal and not as an OCTA denial of service.
OCTA's OC ACCESS service is compliant with the level of service and ride time provided on OCTA's fixed-route OC Bus as required by the Department of Transportation's (DOT) Rules and Regulations, 37.121. OC ACCESS service attempts to schedule rides as efficiently and effectively as possible. Customers should be aware that the trip may be shared with other OC ACCESS customers in compliance with ADA laws. Since OC ACCESS is a shared-ride service, other customers may be picked up or dropped off before you.
When requesting your ride, the caller should be prepared to give the reservation operator the following information:
Your ACCESS identification number
The travel date
Your pick-up address (This must be the exact city, street address and cross streets)
Your destination address (This must be the exact city, street address and cross streets)
The time that you would like to be picked up from your pick-up address (e.g. from home) or the time that you would like to arrive at your destination (e.g. doctor's office). You may not request both a pick-up time and an arrival time. You may only choose one or the other.
If you will be utilizing a mobility aid such as a walker, wheelchair or service animal.
If you will be traveling with a personal care attendant (PCA).
If you will be traveling with a companion.
The caller should have a pen/pencil and paper handy to write down the reservation operator's name, date of trip, and trip times. This information shall be confirmed by the reservation operator prior to ending the call.
Canceling a Ride
Rides must be canceled at least 1 hour prior to the scheduled trip time for it not to be counted as a late cancellation. Late cancels are considered no-shows. To cancel a ride, call 877-OCTA-ADA / (877) 628-2232 24 hours a day, 7 days a week. For TDD, call (800) 564-4232. The earlier a customer notifies OC ACCESS of the ride cancellation, the more efficient vehicle routes can be established.
No-Show Policy
Each verified no-show (or late cancellation) counts as one no-show.  Customers may be suspended after they meet all of the following conditions:
Accumulate three or more no-shows in one calendar month
Have booked at least ten trips that month
Have "no-showed" or "late cancelled" at least 10% of those trips
A warning letter will be sent to the customer after meeting all of the above conditions for that same month, to remind and inform the customer of the no-show policy appeal process and that their OC ACCESS privileges are in jeopardy of being suspended.
The suspension policy dictates the following outcome within a floating 12-month period:
First offense – 7 day suspension
Second offense – 14 day suspension
Third offense – 21 day suspension
Fourth offense – 28-day suspension, maximum.
The Orange County Transportation Authority (OCTA) is committed to providing safe, reliable, courteous, accessible and user-friendly services to its customers. To ensure quality and fairness, OCTA will make reasonable modifications to its policies, practices, and procedures, where necessary, to avoid discrimination on the basis of disability or where the individual with a disability would otherwise be unable to use OCTA services, programs or activities.
OCTA may grant a timely request for a reasonable modification provided that the request:
Is within the power of OCTA, and
Will not fundamentally alter the nature of its services; and/or
Will not constitute a direct threat to the health and safety of others; and/or
Will not require the commission of an illegal act
Requesting a Reasonable Modification on OCTA fixed route bus service:
Rider requests for a reasonable modification shall be communicated to the Coach Operator upon boarding.
When requesting a reasonable modification, riders should be as specific as possible and identify the need, based upon their disability, for the requested modification.
Requesting a reasonable modification on OC ACCESS service:
Customer requests for reasonable modification, where feasible, shall be made when making the trip reservation.
Customer may request a reasonable modification at the time of service.
When requesting a reasonable modification, customers should be as specific as possible and identify the need, based upon their disability, for the requested modification.
Reasonable modification will be provided at no addition cost
For safety reasons, a reasonable modification for door service is NOT available when any of the following conditions exist:
Driver would lose sight of the vehicle
Location involves steps or stairs
Assistance by the driver may harm the customer, driver or both

OCTA may deny requests for reasonable modifications on fixed route and OC ACCESS service if:
The requested modification is unnecessary for the requestor to be able to fully utilize the service.
The requested modification would result in a direct threat to the health and safety of others
The requested modification would result in a fundamental alteration of OCTA fixed route or OC ACCESS service
For reasonable modification requests on OCTA fixed route bus and OC ACCESS service, please visit ADA Overview or by
E-mail
ADAInquiries@octa.net
For questions or comments about OCTA fixed route bus and OC ACCESS service, please contact Customer Relations by:
E-mail
customers@octa.net
Phone
Monday – Friday from 8am – 5pm
800 636-RIDE (7433), extension 2
Mailing
PO Box 14184
Orange, CA 92863