9/6/2023
Members of the public are encouraged to attend the open house on Monday, Sept. 11, to learn more about the future Orange County Maintenance Facility
ORANGE – The Orange County Transportation Authority will be hosting an open house to showcase plans for the Orange County Maintenance Facility project that will help meet long-term public transportation needs by accommodating current and future Metrolink operations.
Members of the public are invited to attend at any time during the open house to receive information about the project and its benefits, as well as have questions answered by project staff. The open house will be held from 5 to 6:30 p.m. on Monday, Sept. 11, at the Conference and Training Center at Irvine City Hall (1 Civic Center Plaza).
The Orange County Maintenance Facility, planned off of Ridge Valley in Irvine, will allow Metrolink passenger trains to be serviced, cleaned and stored locally, instead of having to travel to facilities in other counties. The site will also include a train washing facility similar to a car wash, as well as office space for crews and maintenance staff, parts storage and parking.
Servicing at the site will include cleaning and fueling trains, inspecting brakes and other parts and conducting light repairs. Trains will continue traveling to facilities in other counties for heavier repairs.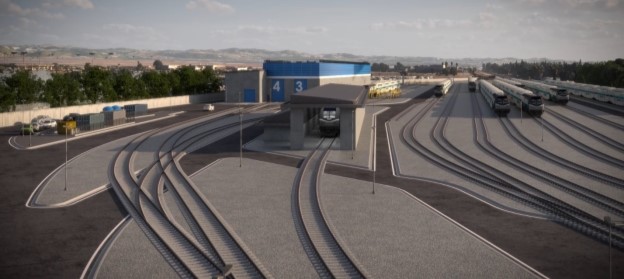 The Orange County Maintenance Facility represents a significant step in helping to enhance public transportation in Irvine and throughout Orange County and will support greenhouse gas reduction efforts to ensure healthier communities.
The facility has been considered by OCTA, Metrolink and the City of Irvine for two decades on this site. The project is currently in the environmental phase and work to complete a Mitigated Negative Declaration was finalized in 2022. The declaration states there would be no significant impacts to the surrounding community or environment through the construction and operation of the maintenance facility.
The Orange County Maintenance Facility is part of Metrolink's Southern California Optimized Rail Expansion (SCORE) program. The $180 million project is funded in part through California's Transit and Intercity Rail Capital Program (TIRCP). Since TIRCP funding is involved in the project, it's part of California Climate Investments, a statewide initiative that puts billions of Cap-and-Trade dollars to work reducing greenhouse gas emissions, strengthening the economy, and improving public health and the environment.
For more information on the Orange County Maintenance Facility, visit octa.net/OCMF.