4/19/2023
Funding toward recent Dam Removal project, zero-emission bus efforts and free day of rides highlight commitment to environmental sustainability
ORANGE – The Orange County Transportation Authority joins in celebration of Earth Day this week and remains always committed to protecting what makes Orange County such a special place to live by keeping people moving with a balanced and sustainable transportation system.
Those efforts include free bus rides all day on Earth Day, Saturday, April 22 (Metrolink trains are also free to ride that day), a continued move toward a bus fleet that produces zero emissions and, most recently, working with the U.S. Forest Service on a dam removal project that is improving wildlife quality in the region.
"While our primary focus at OCTA is to keep Orange County moving safely and efficiently, part of the agency's mission is to also protect our environment and improve our air quality to help our residents and visitors breathe easier," said OCTA Chairman Gene Hernandez, also the mayor of Yorba Linda. "It's truly a win-win for our county."
Dam Removal Assistance
OCTA recently worked with the U.S. Forest Service, contributing $185,000 in Measure M funds, to remove man-made dams for safe passage of native fish species.
With funding from OCTA and several other partners, the U.S. Forest Service removed 14 dams from San Juan Creek, and additional remnants of dams in San Juan, Trabuco and Holy Jim creeks, all in south Orange County.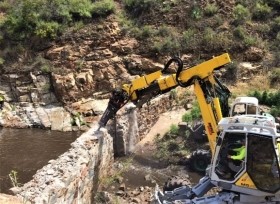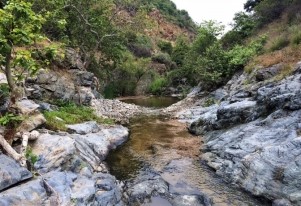 Crews work to remove man-made dams that were preventing movement of native fish species, allowing for Arroyo Chub and other species to thrive. The Orange County Transportation Authority, through the Measure M Environmental Mitigation Program, helped fund the dam removal. Photos courtesy of U.S. Forrest Service.
The removal of the dams allows for native fish such as the Arroyo Chub and southern California steelhead trout to pass through the waterways and more easily flourish, especially during periods of drought and low water flow through the creeks.
When Measure M, the county's half-cent sales tax for transportation was overwhelmingly renewed by voters in 2006, it included an environmental component. That allows some Measure M funds, through the Environmental Mitigation Program, to be used to offset the environmental impacts of transportation improvement projects.
Those efforts include purchasing undeveloped land from willing sellers for permanent preservation and environmental restoration projects that help native and threatened plant and animal species thrive.
The dam removal helps the native aquatic species move more freely and contributes to restoring Orange County's ecosystem.
Moving Toward Zero Emissions
OCTA is currently testing the first two of 10 plug-in electric buses with the additional buses expected to be in service later this year.
The two plug-in electric buses operate on routes throughout various parts of the county, part of a pilot program of 10 plug-in electric buses that will be tested.
In 2020, OCTA also began operating 10 hydrogen fuel-cell electric buses. The pilot programs will help determine which technology – or mix of technologies – will work best for Orange County moving forward as OCTA plans to convert the entire OC Bus fleet to 100% zero-emission technology by 2040.
OCTA has already gradually transitioned its fleet over the years, from diesel-burning buses to clean-burning renewable compressed natural gas (CNG) buses with near-zero-emission engines. The state has set a requirement to transition to complete zero-emission transit within the next 20 years.
Three years ago, OCTA approved a zero-emission bus (ZEB) rollout plan, which was submitted to the California Air Resources Board.
OCTA operates more than 500 buses in the regular OC Bus system across Orange County. For now, most of those buses run on CNG with near-zero-emission engines but OCTA is working toward the goal of producing no emissions for even cleaner air throughout the county.
Free Earth Day Rides
OCTA reminds riders that regular OC Bus rides will be free all day on Saturday, April 22 in honor of Earth Day.
Choosing to take public transportation instead of driving means fewer cars on the road and reduces air pollution.
Those looking to travel across Orange County and beyond on Earth Day can also take advantage of free rides being offered by Metrolink on all Metrolink and Arrow trains. Riders can use the promotional code "EarthDay2023" to redeem their free rides on Earth Day at Metrolink station ticket machines. For information about Metrolink's Earth Day campaign, visit MetrolinkTrains.com/EarthDay.
To plan a trip and learn more about OCTA's commitment to sustainability, visit OCBus.com/EarthDay.