4/28/2023
All rail service will remain stopped through the area until it can safely resume. Updates can be found at metrolinktrains.com/service-update and pacificsurfliner.com/alerts
ORANGE – Keeping passenger safety as the top priority, all passenger and freight train service between Orange and San Diego counties remains halted until further notice because of debris falling from a slope next to the track north of the San Clemente Pier.
Metrolink and Amtrak Pacific Surfliner have adjusted their schedules and passengers are asked to continued checking the respective websites at metrolinktrains.com/service-update and pacificsurfliner.com/alerts for the latest updates.
Metrolink trains will operate this weekend as far south as San Juan Capistrano. Beginning again on Monday, weekday service is scheduled to run only as far as the Laguna Niguel/Mission Viejo station.
Pacific Surfliner service is temporarily suspended between Irvine and San Diego, though limited train service is also available to and from San Juan Capistrano. No bus bridge between Orange County and San Diego is currently available, but the LOSSAN Rail Agency continues to work with partner agencies to secure buses that can transport passengers around the closure and will provide updates on the website when those bus bridges are available.
The Orange County Transportation Authority, which owns the track through Orange County, is working with Metrolink, geotechnical experts, and the city of San Clemente, to monitor the situation and determine next steps for when the track can safely be reopened. Because it is a rapidly changing situation, no timeline has been set at this point.
The track will only be reopened when it is determined to be safe for passengers.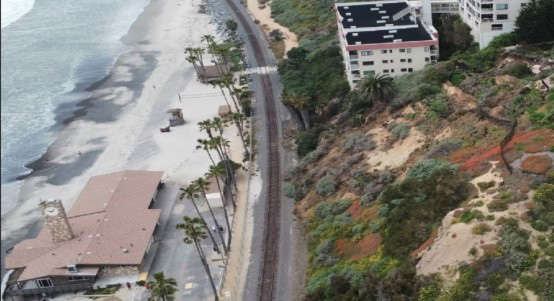 The track closure began Thursday afternoon, when crews observed debris from the hillside below the Casa Romantica Cultural Center and Gardens was falling near the track.
The location of the falling debris is approximately 2 miles north of where OCTA is completing construction work near the Cyprus Shore Homeowners Association in San Clemente. This instance of falling debris from the hillside is unrelated to that effort.