4/24/2023
The funds from the state's Transit and Intercity Rail Capital Program will help central Orange County transit and help further study long-term coastal-rail solutions
ORANGE – The Orange County Transportation Authority has been awarded nearly $45 million in state funds for two projects that will help keep the county moving safely and efficiently by bus and rail, improving air quality in the process.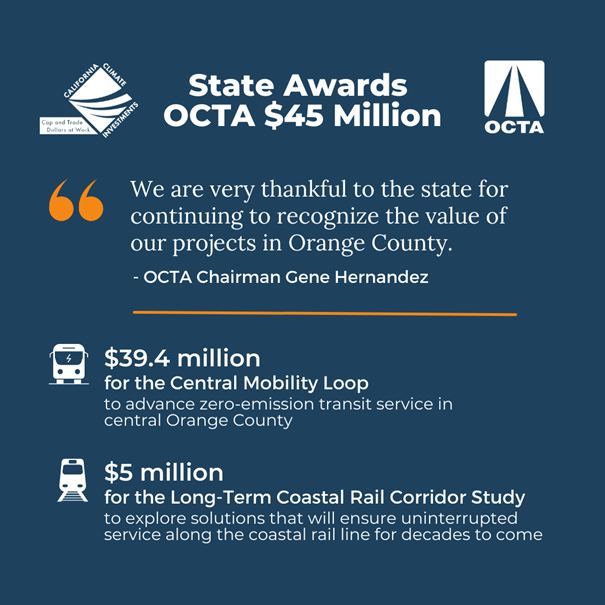 OCTA learned Monday that it has been awarded the funds by the California State Transportation Agency (CalSTA) through the Transit and Intercity Rail Capital Program (TIRCP). In all, the state awarded funding to 28 projects across California totaling approximately $690 million.
"We are very thankful to the state for continuing to recognize the value of our projects in Orange County, which will continue to enhance the ability of our residents, workers and visitors to more efficiently travel to their destinations by using public transit," said OCTA Chairman Gene Hernandez, also the mayor of Yorba Linda.
The funds awarded to OCTA will help with two projects – one focused on increasing mobility options in central Orange County, where public transit options are essential, and the other focused on finding long-term solutions to ensure that the vital coastal rail line can continue to operate for decades to come.
"Our successful funding applications were possible through the strong support of Orange County's state and federal elected officials, our city partners and neighboring transportation agencies," said OCTA CEO Darrell E. Johnson. "We very much appreciate their collaboration and look forward to continued partnership as we work to advance these important transportation projects."
The state funds awarded to OCTA:
$39.4 million toward the Central Mobility Loop. That includes:

Purchasing 33 zero-emission buses and associated infrastructure for expanded service.
Replacing 10 gasoline-powered paratransit vehicles with zero-emission vehicles, leveraging a recent federal grant.
Implementing transit signal priority at 60 traffic signals and to all buses traveling along 12 miles of the Bravo! 543 route, which will allow buses to move through intersections with more consistent speeds. This builds on OCTA's 94 signal-timing projects throughout Orange County that has resulted in 3,285 signals being synchronized along 838 miles of streets.
Installing new bike storage at the Santa Ana Regional Transportation Center, as well as fast-charging stations at SARTC and the Fullerton Transportation Center.
These funds are in addition to a previous TIRCP award of $150 million to help fund the completion of the OC Streetcar.

$5 million toward the Coastal Rail Corridor Relocation Study.

This study is part of OCTA's recently adopted framework to work with partners to find longer-term solutions for the coastal rail line, a critical link that is vital for passengers, freight and the military along the second busiest rail corridor in the nation.
The study will look at long-term options for approximately 11 miles of the Los Angeles – San Diego – San Luis Obispo (LOSSSAN) rail corridor through south Orange County.
OCTA recently completed emergency work shoring up the track and adjacent hillside along a 700-foot stretch of the rail line in south San Clemente.
The OCTA led study, with local, state and federal partners, will look at long-term solutions, including potential realignment of the rail line near the coast to protect it for generations to come.
"California under Governor Newsom's leadership continues to make historic investments to expand and improve access to public transportation for the people of California," Transportation Secretary Toks Omishakin said in the state's news release. "These investments will help kickstart new transit projects, create thousands of jobs and put our state in a stronger position to compete for significant federal infrastructure funding to deliver even more mobility, safety, environmental and equity benefits."
Since 2015, the state's TIRCP has provided more than $9.8 billion in funding to 125 projects statewide, funded primarily from Senate Bill 1, the Road Repair and Accountability Act of 2017, and through California Climate Investments, a statewide initiative that puts billions of Cap-and-Trade dollars to work reducing greenhouse gas emission, strengthening the economy, and improving public health and the environment – particularly in disadvantaged communities.
In all this round, the 28 projects are estimated to take out more than 2 million metric tons of air pollutants, helping California breathe easier.