5/24/2023
Blythe, a veteran transit leader, comes to OCTA from San Diego County
ORANGE – Damon Blythe, a proven transit leader with 25 years of industry experience and a public transit rider himself since childhood, has been named Director of Bus Operations for the Orange County Transportation Authority.
As the new director of operations for the bus system in Orange County, Blythe will lead the oversight of day-to-day bus operations and bus operations support, as well as specialized transportation services, including the OC ACCESS paratransit group.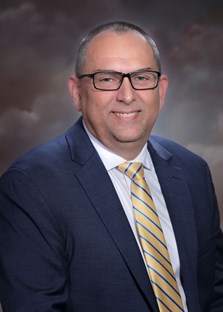 He will also provide direct support to the contracted fixed-route team, which makes up about 40% of the regular OC Bus service.
"We are very pleased to have Damon join our team because of his many years of experience and his proven ability to lead while building a strong team," said OCTA Deputy CEO Jennifer L. Bergener. "I know that he will be invaluable to helping OCTA continue providing safe and reliable transit services now and for the future."
Blythe will report directly to COO Johnny Dunning, who was appointed to that role last year and has previously worked with Blythe in San Diego County, to continue advancing Orange County's evolving public transit needs.
"I've ridden public transit since I was a kid riding the bus with my mom to get around, so I know first-hand how important safe and reliable transit is for getting people where they need to be," Blythe said. "I'm excited to see how the way people get around Orange County is evolving and I'm eager to be part of the team planning transit solutions that will best serve existing riders and attract new riders."
Blythe, a native of Southern California, began his transit career 25 years ago with the Utah Transit Authority. He started as a driver but quickly moved into a transit planning role, helping in the effort to efficiently move people during the 2002 Winter Olympics.
In 2012, his California roots pulled him back home and he began working for the North County Transit District in San Diego County, where he worked four years in the Rail Division before moving into the Planning department in 2016, eventually becoming NCTD's Chief Operations Officer responsible for fixed-route and paratransit services.
Blythe said he was attracted to the Orange County Transportation Authority because of its size, resources and enthusiasm for continuing to grow and enhance the county's transit system.
OCTA, with an annual budget of $1.65 billion, has continued to evolve its transit services to better serve the public. In addition to operating the fifth largest transit agency in California (based on pre-pandemic ridership levels), OCTA provides paratransit services, oversees Metrolink commuter rail and vanpool services, operates the OC Flex microtransit service, funds community and seasonal shuttle services, and is currently building the OC Streetcar, a 4-mile modern electric streetcar route that will provide another important transit option in downtown Santa Ana and Garden Grove.
Blythe holds a bachelor's degree in Business Administration from the University of Phoenix.
As a native Californian, he continues to live in the San Diego County city of Vista, regularly commuting to work by Metrolink rail and by OC Bus. He lives with his wife, Tricia, and their three children.