11/14/2022
Orange County Transportation Authority is working with a geotechnical contractor on an emergency basis to secure the hillside and safely restore passenger rail service
ORANGE – The Orange County Transportation Authority and its contractor have begun construction activities to stabilize the railroad track through southern San Clemente, work that is expected to be completed in February.
OCTA is working with geotechnical contractor Condon-Johnson & Associates Inc. to perform the emergency stabilization work to safely restore passenger rail service as soon as possible. Project engineers and geotechnical experts will continually monitor the slope next to the track during construction.
Rail service could possibly resume prior to construction completion in February. OCTA will work in partnership with all rail agencies to determine at what point service can safely restart.
"We are attempting to get this emergency work done as quickly as possible with safety continuing to guide all of our actions," said OCTA Chairman Mark A. Murphy, also the Mayor of Orange. "Like everyone, we want to see Metrolink and Amtrak Pacific Surfliner safely running again through this area. At the same time, we need first to ensure the track is no longer moving."
The construction timeline is subject to change, depending upon several factors including securing and manufacturing necessary construction materials and inclement weather.
Clearing of vegetation in the construction zone occurred the first week of November and the recent heavy rainstorm had no significant effect on the schedule, nor did it exacerbate ground movement. Initial grading work on the site began on Thursday, Nov. 10 and was scheduled to be in full swing beginning today (Nov. 14).
The construction work is being completed on a slope along about 700 feet of rail between the ocean and homes above in the Cyprus Shore Homeowners Association.
OCTA this week began notifying residents near the construction area about the upcoming work beginning, which includes:
Mobilizing equipment onto a vacant lot at Avenida de las Palmera and Calle Ariana to produce concrete for the project.
Performing excavation and grading activities to prepare for installation of the ground anchors to stabilize the slope.
Work hours will be on weekdays from approximately 6 a.m. to 6 p.m., for safety and to minimize disruption to surrounding residents.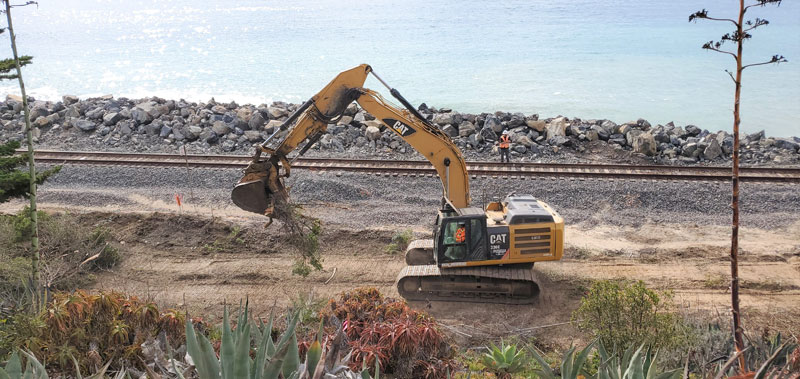 That work will involve drilling large steel anchors more than 100 feet long into the bedrock of the slope adjacent to the railroad track to prevent it from pushing the track further toward the ocean. The track moved as much as 28 inches between September 2021 and September 2022 due to storm surge and sand erosion on the coastal side and the gradually sliding hillside on the other.
Passenger rail service, including Metrolink and Amtrak, was stopped in late September out of an abundance of caution and to allow for the emergency repairs.
OCTA is working with state and federal officials to secure necessary funding to pay for the emergency construction, estimated at $12 million. In October, the OCTA board approved the emergency construction and, on the same day, the California Transportation Commission met in a special session and approved $6 million in emergency funding.
In addition to the immediate repair work, OCTA continues to review long-term options for protecting the rail line in this area and throughout the coastal region. OCTA's priority is to work with all partners to move forward with slope stabilization to ensure safety for all passengers who travel through the area.
For updates, visit www.octa.net/railimprovements.