Orange County Passenger Rail
Passenger trains offer safe, seamless and reliable transportation throughout Southern California while reducing pollution and traffic by taking cars off the road. OCTA administers and promotes two types of rail service in Orange County and beyond.

Metrolink is Southern California's commuter rail service linking residential communities to employment and activity centers in the counties of Los Angeles, Orange, Riverside, San Bernardino, and Ventura. For the three Metrolink lines serving Orange County, OCTA oversees station and rail improvements and encourages weekday and weekend travel. In FY 2020, there were 3.9 million annual boardings in Orange County. OCTA is building passing siding tracks in Orange County to reduce delays and enhance efficiency and sustainability.

In addition, OCTA staffs the Los Angeles - San Diego - San Luis Obispo (LOSSAN) Rail Corridor Agency that oversees the 351-mile LOSSAN corridor, a six-county coastal region in Southern California and the second busiest intercity passenger rail corridor in the United States. The LOSSAN corridor includes the Pacific Surfliner, the busiest state-supported Amtrak route.

Learn more about Metrolink.

Learn more about Pacific Surfliner.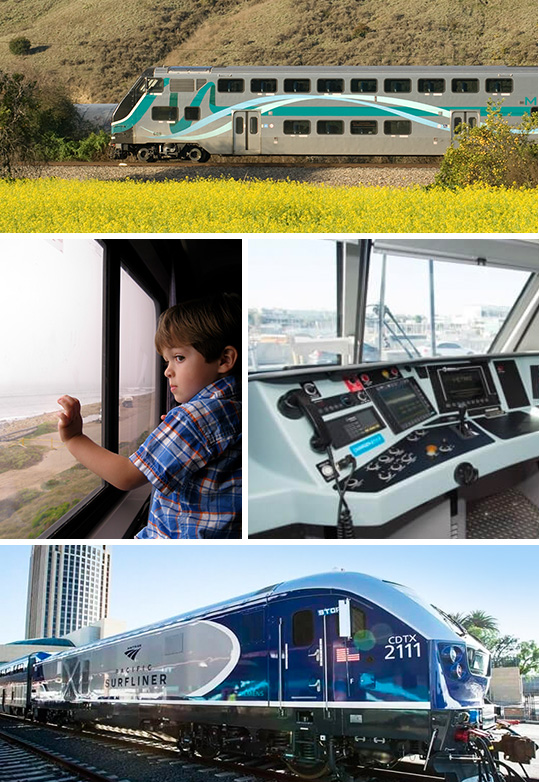 Environmental Benefits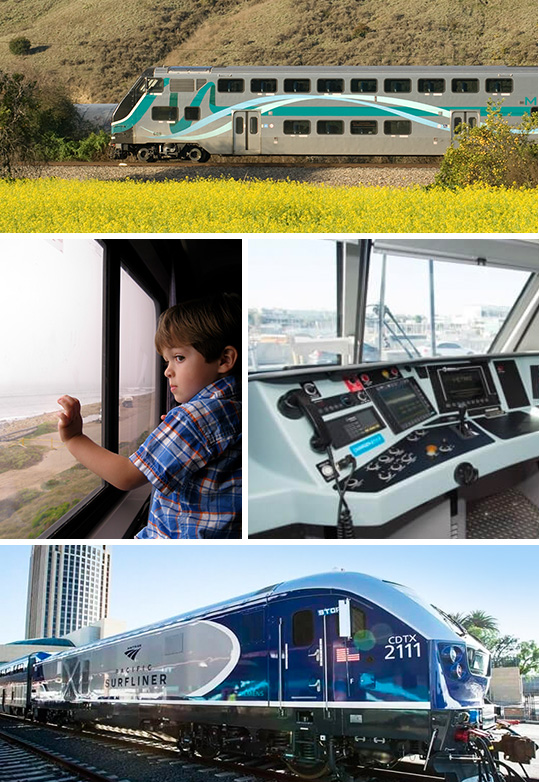 OCTA's commitment has resulted in:
Throughout Southern California, Metrolink:


Removes 9.3 million weekday trips every year
Reduces vehicle miles traveled by 339,329,158 miles
Eliminates 130,000 metric tons of greenhouse gas emissions

Metrolink and the Amtrak Pacific Surfliner were among the first commuter rail systems in the nation to operate new locomotives powered by Tier 4 clean technology. Tier 4 locomotives are the cleanest diesel locomotives in the nation and reduce emissions by up to 85% compared to older locomotives.
To reduce environmental impacts from the unnecessary burning of diesel fuel, Metrolink reduced train idling by 35% systemwide.
Factoring in the average pounds of carbon dioxide emissions per passenger mile in a private automobile versus riding on passenger rail, the 253 million passenger miles for the Pacific Surfliner (FY 2018) resulted in a reduction of over 91,000 tons of greenhouse gases (GHG). The CO2 emissions saved is the equivalent of burning over 191,000 barrels of oil.
Additional Resources
Metrolink recently retired Engine 882, the final Tier 0 locomotive remaining in its fleet. That's significant because Engine 882 will be replaced by a Tier IV locomotive, the cleanest-burning diesel engines available.
Completed ahead of schedule, a new passing siding railroad track in Laguna Niguel and San Juan Capistrano will reduce delays and enhance safety for rail traffic traveling through the area.