OC Flex Microtransit Service
In 2019, OCTA launched the OC Flex microtransit pilot program in two Orange County regions where fixed-route bus service was reduced or eliminated. The eight-passenger vans are smaller than traditional 40‑foot buses and provide app‑based, accessible, on‑demand transit services, allowing people to share the ride to their destinations.

OC Flex furthers OCTA's goals of reducing air pollution and implementing critical first‑mile, last‑mile strategies. Commuter rail pass holders and OC Bus riders use the service as a free first‑mile, last‑mile connection, making OC Flex a critical link in green commuting alternatives that help take cars off the road reducing vehicle miles traveled and improving air quality.

OCTA set a goal for OC Flex to have 25 percent shared rides and have 25 percent of rides connect to other transit service. The pilot program exceeded both of these performance metrics with more than 37 percent of rides being shared and 32 percent of rides transferring to or from OC Bus or Metrolink service.

Following a trial period, OC Flex service was temporarily suspended in the Huntington Beach/Westminster area due to the pandemic. The service continues to operate in parts of Aliso Viejo, Laguna Niguel, and Mission Viejo.

Learn more about OC Flex here.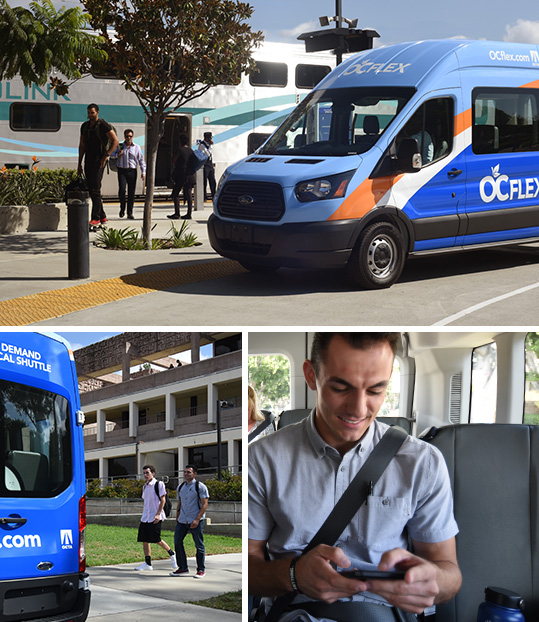 Environmental Benefits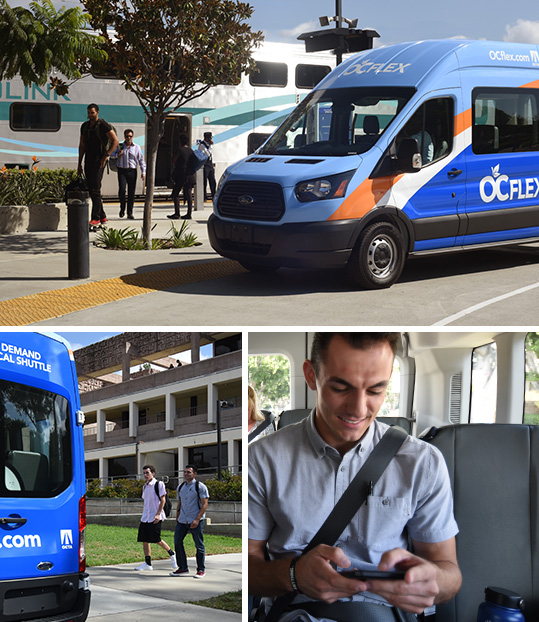 OCTA's commitment has resulted in:
Reduces air pollution and VMT by offering a car-free alternative
Provides an innovative transit option in low-demand areas and first-mile, last-mile connections to OC Bus and Metrolink
Partially funded by MSRC through a program designed to implement transportation-related air quality improvement projects within the South Coast's four-county region
Additional Resources
The Orange County Transportation Authority (OCTA)'s OC Flex Pilot Program has been such a success that it is extending and expanding the service through the fall.
Riding public transportation is easier than ever thanks to OC Flex, OCTA's new on-demand shuttle service that picks you up and takes you where you want in two zones including parts of Huntington Beach/Westminster and Aliso Viejo/Laguna Niguel/Mission Viejo.
This summer, there's a great new way to get around - no car needed. OC Flex will pick you up and take you to the mall, movies, restaurants, errands, and fun summer events.