Reading a Schedule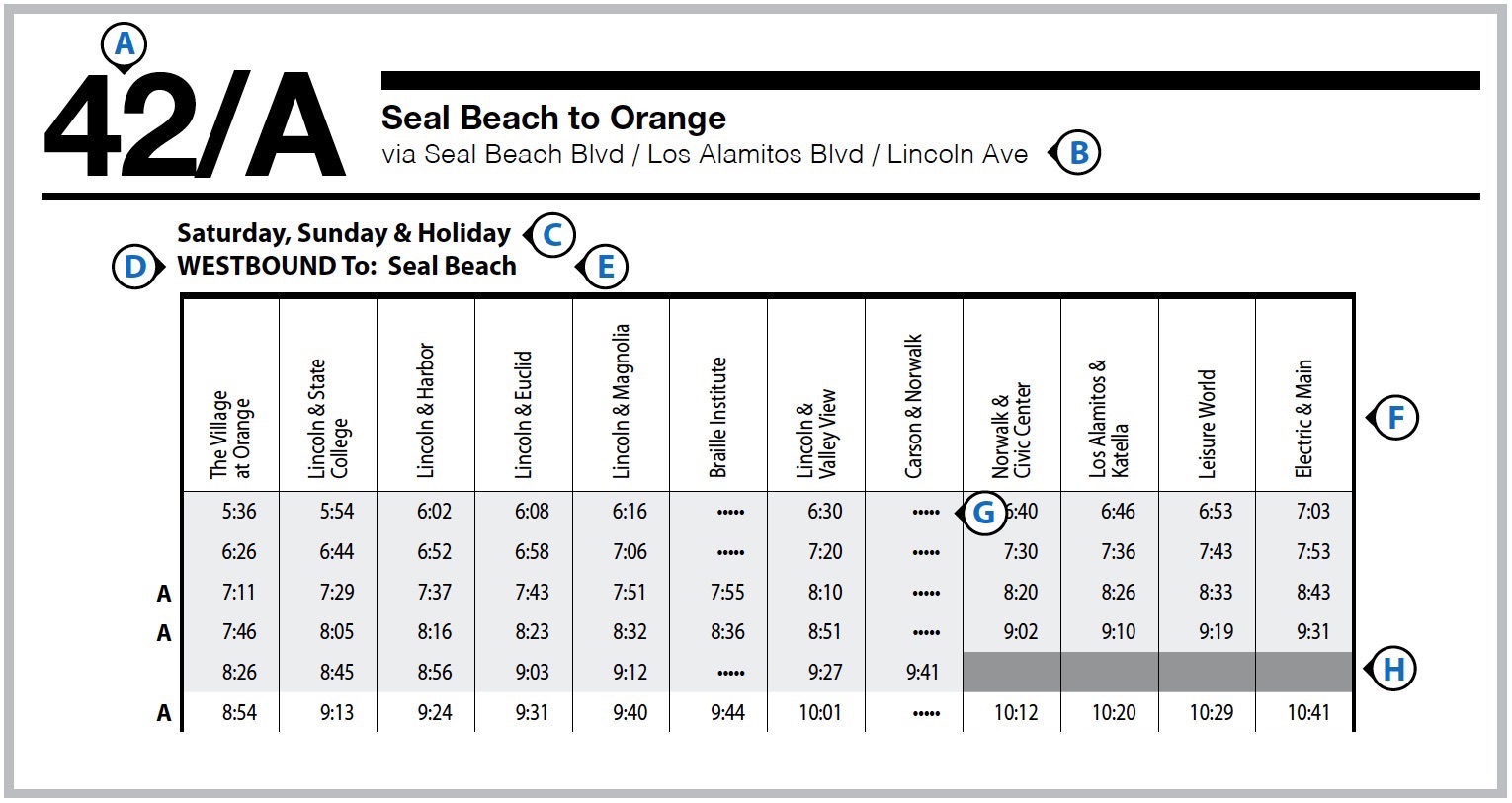 Icon

Descriptions

Indicates the bus route number.

City destinations and major streets along the route.

Days the schedule is in effect. Holiday schedules only apply to the following holidays: New Year's Day / Labor Day / Memorial Day / Thanksgiving Day / Fourth of July / Christmas Day

The direction of travel.

City or landmark where this route ends its trip. If two cities or landmarks are listed, this indicates the route operates short turn trips. See part H for a description of short turn trips.

Scheduled departures are from the major bus stops listed. The bus departs at the time specified in the schedule. Riders are encouraged to arrive at bus stops 10 minutes prior to scheduled departure time(s). Between major bus stops, there are additional designated bus stops where you may board the bus, usually located one to three blocks apart. OCTA's bus stops are identified by a bus stop sign which indicates which route(s) will stop there. Riders will need to estimate the bus arrival times at these bus stops. Riders are advised to arrive at the scheduled time of the previous major bus stop for all non-scheduled bus stops. Departures from the non-scheduled bus stops may vary. Schedules may change due to unforeseen circumstances (traffic conditions, detours, weather, emergencies or labor issues), but we will do our best to provide bus service as planned.

Below each scheduled departure you will see a listing of the times that the bus will be at that location. By reading the schedule from left to right, you can follow the movement of the bus as it travels along its route. In the example schedule shown, if you board Route 42 at The Village at Orange at 5:36 a.m., you would arrive at Leisure World at 6:53 a.m. Note: p.m. times are in bold print. Some routes, such as the 213, have flexible schedules due to traffic conditions. Buses may arrive or depart at certain scheduled departure points earlier than the published time. These schedules are denoted by an "(F)" following the time point name, ex: Brea Mall (F).

When you see ellipses (.....), please note that NO SERVICE IS PROVIDED to that stop on that particular trip. In the example shown, Route 42 does not serve the Braille Institute until 7:55 a.m., even though there are earlier trips at other scheduled departure points.

When you see a gray bar, please note that this particular trip is operating as a short turn trip and does not offer service along the entire length of the route. Short turn trips either do not start at the beginning of the route or do not go to the end of the route.