A History of Clean, Green Bus Fuel
When it comes to reducing harmful bus emissions, OCTA leads the pack. In 2000, California established emission requirements for diesel particulate matter (PM) and oxides of nitrogen emissions (NOx) from urban buses and transit fleet vehicles. Transit agencies were required to select either the diesel path or the alternative-fuel path. OCTA selected the cleaner alternative fuel path and has exceeded all state emission requirements for an urban bus fleet as well as for transit fleet vehicles.
OCTA operates more than 500 fixed-route buses in Orange County. The majority of the fleet features near zero-emission engines that run on clean-burning renewable compressed natural gas (CNG). This environmentally conscious fuel is produced by the decomposition of organic matter from landfills and other sources and then processed to purity standards.
As part of its plan to convert the OC Bus fleet to 100 percent zero-emission technology by 2040, OCTA is conducting a pilot program using plug-in battery-electric buses and hydrogen fuel-cell electric buses. This pilot will help determine which technology - or mix of technologies - will help bring even cleaner air quality to Orange County.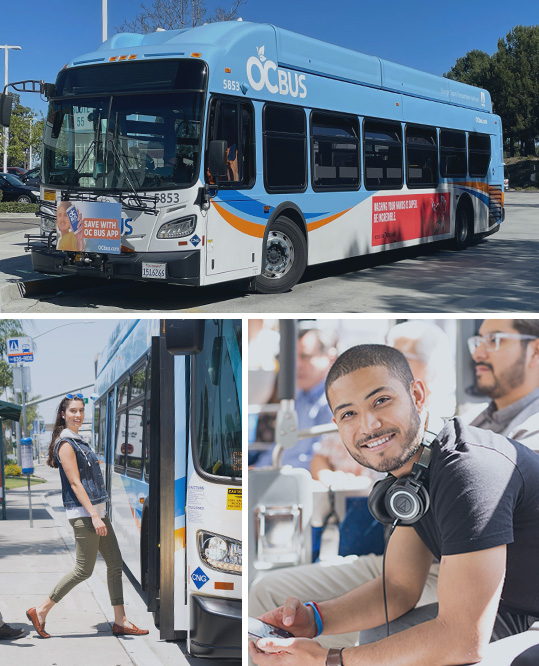 Environmental Benefits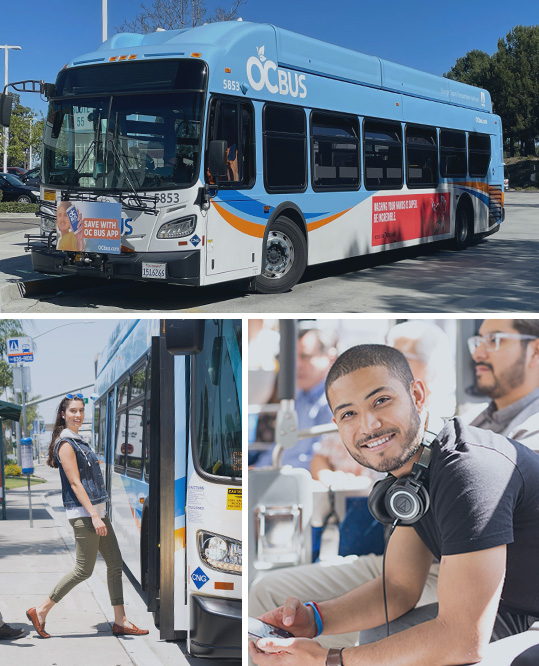 OCTA's commitment has resulted in:
Compared to 2002 baseline emissions, OCTA reduced its PM emissions by 97 percent and NOX emissions by 99 percent after choosing to use alternative fuel.
CNG fuel is safer than gasoline and diesel because it is non-toxic and does not contaminate ground water.
When OCTA switched to CNG engines and cooling systems in 2016, it destroyed the old engines and provided documentation of that work to the South Coast Air Quality Management District, which in return provides funding to help pay for the project.
Additional Resources
OCTA was honored with AQMD's Innovative Clean Air Technology Award for its efforts to lead the region in working toward cleaner air through pilot testing of plug-in battery electric buses, hydrogen fuel-cell buses and operating one of the largest hydrogen fueling stations in the nation.
OCTA remains committed to protecting what makes the county such a special place to live and to keeping people moving with a balanced and sustainable transportation system.
OCTA will receive $2.5 million in federal funding toward the purchase of 10 battery-electric buses that will replace 10 gasoline-powered buses in the OC ACCESS program.